Natural Cooling Strategies
Natural Draft
Depending on the location and design of the home, natural convection and cool breezes can help cool the home without requiring even the aid of mechanical fans. If you are replacing windows, determine if picture windows can be replaced with windows that open, if they face favorable prevailing breezes.
If you have a two-story house, you can take advantage of the "stack effect." (You can see this at work in a chimney when air rises through the column and out the opening at the top due to air pressure differences inside and outside of the chimney.) Windows can be opened downstairs at the same time as windows upstairs, or at the tops of stairwells, or at openable skylights to draw hot air up and out of the house.
Circulating Fans
Circulating fans include ceiling fans, table fans, and floor fans. These fans create a wind chill effect that will make you more comfortable in your home, even if it is also cooled by air conditioning. In temperate climates, or during warm weather, fans may allow you to avoid using your air conditioner altogether. However, be sure to turn off ceiling fans when you leave a room; fans cool people, not rooms. If you use air conditioning, a ceiling fan will allow you to raise the thermostat setting about 4°F with no reduction in comfort. A larger blade will also provide comparable cooling at a lower velocity than a smaller blade. Check the noise ratings, and, if possible, listen to your fan in operation before you buy it.
Window Fans
Window fans use relatively little electricity and can provide sufficient cooling for homes in many parts of the country. Window fans are best used in windows facing away from the prevailing wind; the fan is installed facing in to pull air out of the house, not push air into the house. The window fan will work best if you close windows
near the fan and open windows at the opposite end of the house. If your house is multilevel, put the fan in an upstairs window and open windows downstairs at the other end of the house. Windows on shaded parts of the house provide the best intake air for cooling. When buying window fans, look for ENERGY STAR® rated fans, which are 20% more efficient than standard models.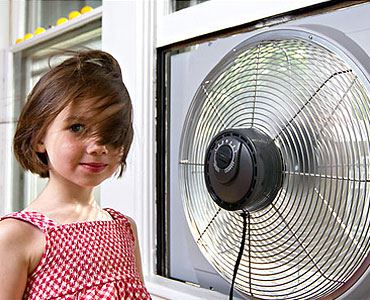 Attic Vents
Ventilating your attic can reduce the amount of accumulated heat that would otherwise warm your house and make air conditioning equipment installed in the attic work harder. Properly sized and placed roof vents help prevent overheating in your attic. Ventilated attics are about 30°F cooler than poorly ventilated attics (www.energysavers.gov). Electric and solar-powered attic fans that mount in gable vents are available, but they are not necessarily recommended. They have not been shown to reduce air conditioning bills. They can pull air-conditioned air out of your home and into your attic if the ceiling of your home is not well air sealed.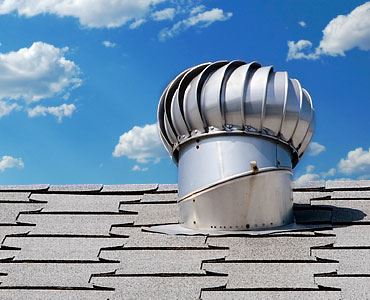 FREE
A/C or Heating Repair Service Call
With Paid Repair

Cannot be combined with any other offers or comfort club member discounts. Must mention coupon when scheduling and present at time of service; repairs not included. Additional terms and conditions may apply, call for details.
Valid from Jan 1, 2023
- Dec 31, 2023
Print Coupon
Whole House Fans
If you live in a dry, moderate climate with a large day-to-night temperature difference, a whole house fan might be worth considering for home cooling. Whole house fans are located in the ceiling of a centrally located area on the upper floor of your home. (Install in the second-story if you have a two-story home.) The fan is operated with lower-floor windows open. Your attic must be well ventilated with ridge and/or gable vents. Whole house fans draw air through the house and push it out through your attic. Whole house fans can quickly cool your house at night, once the outside temperature has dropped.
The fans are large and can be loud, especially if they are poorly designed. Also, be cautious and avoid running the fan while combustion equipment (like a natural-draft water heater) is running. Combustion equipment may backdraft when the fan turns on, if not enough windows are open. Whole-house fans are not recommended in humid climates, because they pull in humid air and add humidity to the attic. They may not be appropriate in areas where opening first-floor windows at night would cause security concerns. When not in use the fan should be covered from the attic side with a tight-fitting, gasketed, insulated cover.
Passive Cooling
Passive cooling refers to use of the home's design to keep the home's interior cool. While the best time to incorporate passive design is in the home's initial construction, many passive strategies can be incorporated in common remodeling projects. These include upgrading windows, adding shading, replacing roofing with cool roof materials, and installing radiant barriers.
Windows
EXISTING WINDOWS
If you are keeping your existing windows, there are some steps you can take to reduce how much heat they let in. On south- and west-facing windows, you can install sun screens that have small aluminum louvers, fiberglass mesh, or tough metalized polyester film laminated to vinyl. Such removable shade screens can be taken down to allow you to take advantage of the sun's heat during the winter.
You can also reduce heat from the sun by applying window-tinting films. One problem with these films is that they can reduce the clarity of the glass; they may also need to be reapplied. However, such treatments and shades are much less expensive than new windows.
NEW WINDOWS
While energy-savings alone won't necessarily justify the purchase of high-performance windows, if you are already planning to replace your windows, invest in energy-efficient windows that meet the ENERGY STAR criteria. A contractor can help you determine which windows are best for your climate zone, using window ratings such as the solar heat gain coefficient (SHGC) and the U-factor.
Your contractor will likely recommend ENERGY STAR-certified windows. ENERGY STAR ratings for windows vary based on the climate you live in. The current minimum specification for ENERGY STAR windows in southern climates is less than or equal to 0.27 SHGC and less than or equal to ≤ 0.60 U-factor.
In warm climates, look for windows manufactured with spectrally selective low-emissivity coatings. These super-thin, virtually invisible metal coatings block heat gain but allow most visible light to come through.
"We will use Precision and Kevin again should any issues arise with our unit."

- Jay B.

"Very prompt service. Gave some good suggestions. Would definitely recommend their service"

- Vinay K.

"We'll use Precision again, especially if Ryan is our tech."

- Kofi B.

"They were out early the next morning and diagnosed and fixed the problem quickly."

- Ingrid M.

"Ryan arrived on time and was very professional. A/C blowing cold again. Would highly recommend this Precision Heating & Air."

- Louie M.
Radiant Barriers
Radiant barriers can be installed in attics to reduce solar heat gain. These work well in hot climates where you want to keep heat out of the attic but are not recommended in cold climates where heat gain is desirable. Sometimes called reflective insulation, radiant barriers can come in sheets that consist of a layer of aluminum foil with a backing of kraft paper, plastic film, polyethylene bubbles, or cardboard. The sheets are stapled to the underside of the attic rafters to shield the attic from solar heat gain. The barrier is stapled shiny side down with an air gap of at least 3/4 inch between the shiny side and the attic insulation below so the radiant barrier can work properly. Also available are radiant barriers that come factory-adhered to OSB roof sheathing. Research by the Florida Solar Energy Center showed radiant barriers can provide cooling energy savings of about 8% to 12%.
Shading
According to the U.S. Department of Housing and Urban Development, stopping the sun's heat before it penetrates windows and sliding glass doors is up to seven times more effective than using interior blinds or curtains.
Exterior shading options include trees, porches, awnings, pergolas, trellises, working shutters. If your remodeling project includes changing the roofline, include overhangs in your design, especially on south-facing walls. Overhangs protect windows and walls from heat gain and ultraviolet radiation, as well as rain, hail, and snow.
Trees reduce cooling requirements, particularly when located on the south and west side of the home, by blocking the peak solar-gain of low-angle, late-afternoon sun. Deciduous trees are ideal for summer shading in cold climates because their lack of leaves in the winter will not block desirable sunshine during the heating season. Studies have shown a mature tree canopy can reduce peak July afternoon temperatures around a home by 1°F to 3°F, and the total effect of shading—lower summer air temperature and reduced wind speed— can reduce cooling costs by 5% to 10%.
Cool Roofs
If you are replacing your roof and you live in a hot climate, consider replacing it with a cool roof. Cool roofs are white or light-colored roofs or roofs made with coatings that have high solar reflectance. These roofs reflect back most of the solar energy received, and they have high thermal emittance so they are able to radiate back absorbed solar heat. Studies show that cooling cost savings of 7% to 15% are possible. Savings will be greater if your heating and cooling ducts are installed in the attic.
Schedule Service
Servicing all brands